Cheers is located in the centre of Fraserburgh in the furthest North East corner of Aberdeenshire, home to one of the finest fishing fleets around.
For a wee small town bar we have won a multitude of awards in 2013 including the SKY Sports Preview Live magazine 'Ultimate Venue' Award; Best Bar None (Scotland) National Awards; Innserve Ltd's Beer Cellar Award for Scotland; Tennent's Quality Award; and the icing on the cake was to be crowned 'Best Independent Bar in Scotland'. There were others, but there are too many to mention.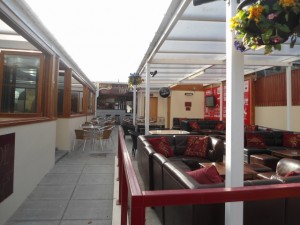 We are a family friendly pub and welcome all visitors, particularly those with disabilities, and during the summer our award winning beautiful beer garden (which is sheltered, covered and heated) will be the perfect venue to watch the Commonwealth Games, World Cup Football and the Ryder Cup with its several outside televisions and bar.
a family friendly pub and welcome all visitors
Our bar offers a choice of 115 malt whiskies, 20 fine blended whiskies and 10 whisky liqueurs, including the excellent Macallan Amber, as well as other spirits and beers. We also serve the best Scottish Fayre including locally sourced haddock.