Nestling in the very heart of Glencoe, the Clachaig Inn is almost as famous as the hills that surround it.
A haven for travellers for more than 300 years, you don't have to try very hard to imagine wet and weary Highlanders from yesteryear staggering up to the door of this refuge on a cold night.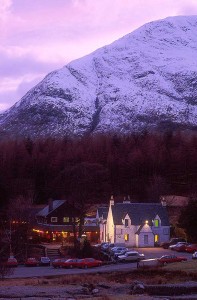 The fantastic location hasn't changed, but today you'll find three bars each with a distinct, friendly atmosphere, rustic wooden tables and stone floors, open fires, live music, hearty food such as cloutie dumpling, and an excellent selection of drinks. Clachaig has been synonymous with outdoor folk and the Glencoe hills for decades. Near neighbour, Hamish MacInnes, formed the Glencoe Mountain Rescue Team at a meeting in the bar in 1962. Owners and staff have been part of the team ever since. Pioneering climbers, Everest expeditions and weekend warriors alike have all based themselves at Clachaig over the years. However, it's not all about big boots and gore-tex.
You're as likely to find families visiting the scene of Hagrid's Hut from the Harry Potter movies as you are bump into Sir Chris Bonington, though the latter isn't beyond the realms of possibility either. In 2004, Hollywood spent 6 months in the car park, and built an extensive set for use in the Prisoner of Azkaban, and subsequent episodes. Although Clachaig itself was a few hundred metres out of shot in that film, it took centre screen in the 2008 movie, Maid of Honor, and has played host to many other film crews throughout the years. Away from mountains and movies, Clachaig's real appeal lies quite simply as a good old hostelry. The promise of real people, real hospitality and real craic is consistently delivered on. At the heart of the matter are as many as 15 ales from breweries across the Highlands and Islands, 300 malt whiskies, roaring log fires and plenty of live music.