Molly Malone's is a well-known traditional Irish bar in Glasgow which is visited by both locals and tourists and is renowned for serving the best pint of Guinness in town.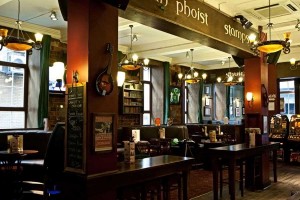 Its name is taken from the popular song In Dublin's Fair City, which has become Dublin's unofficial anthem. The building began life as a postal sorting office and you will find saving certificates, stamps, books and envelopes around the walls which are a reminder of its history.
The pub is situated in the heart of the entertainment hub of Glasgow and is just a stone's throw away from The Theatre Royal, The Pavilion Theatre and the Cineworld and GFT cinemas. Molly's comes into its own at weekends with the best in Irish folk, traditional and rock bands every Friday and Saturday evening from 9.30pm. The pub also serves great home cooked food daily and shows all major sporting events on their big screens including football, rugby and Gaelic games. Molly Malone's is a real gem in the heart of Glasgow.
The building began life as a postal sorting office and you will find saving certificates, stamps, books and envelopes around the walls