Long before they built the roundabout, there was a pub on the site of The Borestone. Now this friendly community pub, with its roomy lounge and public bar, stands proudly at the top of Bannockburn Road overlooking the roundabout.
In June 1314 King Robert the Bruce of Scotland defeated King Edward II of England at Bannockburn in the decisive battle of the Wars of Scottish Independence. Borestone is believed to be where Robert the Bruce set up camp and raised his banner before the battle and the borestone is where the King is said to have placed his standard pole.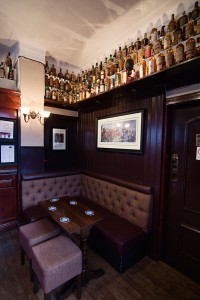 With these historic connections, it's not surprising the loyal band of locals are often joined by tourists, but the visitors are just as likely to be seeking out the astonishing collection of vintage whiskies that sit three-shelves-deep all around the pub.
'Borestone is believed to be where Robert the Bruce set up camp'
The pub sits at the meeting point of the old Glasgow and Edinburgh roads and contains a formidable collection of Scottish malt whiskies. Lining the walls, they give this well-proportioned and friendly bar a special character. So too do the framed pictures of Scottish distilleries and, in the public bar, the bookcase with scores of books to choose from. The liveliest time is at the weekend and the Tuesday-night quiz with its prize of a £15 bar tab, but you'll get a friendly welcome any time of day. Also popular are the Thursday afternoon domino sessions, the fortnightly Saturday karaoke, the live music on a Sunday and the SPL football fixtures shown on the five HD televisions.