Many pubs take their name from a point of interest somewhere vaguely in the area, but not The City Walls: the only way into this large and lively bar is through the city wall itself.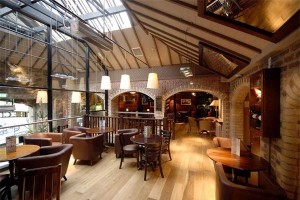 An archway through Stirling's sixteenth century defences leads you into a fascinating conversion of what was once an ironmonger's warehouse. Stirling boasts the finest surviving town wall in Scotland and you can follow the route of the wall from the centre of the modern day city centre to the heart of Stirling Old Town. Much of this historic wall dates to 1547, when it was strengthened to defend the people of Stirling against King Henry VIII of England.
The City Walls appeals to a wide range of people – tourists, families, locals, office workers, sports fans and weekend party lovers. Whoever you are, there's plenty of room including the upstairs beer garden with a view over Stirling's King's Park. The pub offers a varied and appetising food menu utilising fresh ingredients and food is served from 12noon till 9pm through the week and this is complemented by a weekend breakfast menu from 10am till noon. There is a quiz night on Thursdays, a DJ and live music on a Saturday night, and sports fans are well catered for with all major events shown.
the only way into this large and lively bar is through the city wall itself