The Oak Tree Inn, which stands in the shade of a magnificent 500 year old oak tree, is located on the east side of Loch Lomond where the highland boundary fault line separates the Highlands and Lowlands.
The Inn is built from local re-cycled materials from Buchanan Castle stables, wood panelling from a former shooting lodge at Rowardennan, now a youth hostel, as well as slate from Aberfoyle Slate Quarry.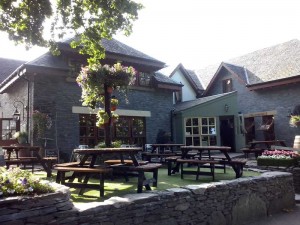 During the eighteenth century the famous Rob Roy MacGregor drove his cattle and sheep through Balmaha. The site the Inn is built on was a holding pen for sheep before they were driven up The Pass at Balmaha to Balquhidder.
'Rob Roy MacGregor drove his cattle and sheep through Balmaha'
Balmaha is also famous for whisky smuggling from illicit stills on various islands on Loch Lomond and Inchfad Island in particular had numerous illicit stills. Today the nearby Buchanan Castle is a ruin but once was home to the Dukes of Montrose. It was requisitioned as a hospital during the Second World War and the Oak Tree owner's grandfather, who worked for the Duke of Montrose, met Rudolf Hess after his plane crashed in 1941 and he was taken to the military hospital at Buchanan Castle for treatment. Today we supply ales and ciders from our sister company, the Balmaha Brewing Company, as well as over 50 malt whiskies and traditional Scottish food.