They still get the odd customer who remembers being at school in this imposing granite building in one of the liveliest quarters of town.
If only all educational establishments could be as a happy and welcoming as The Old School House is today. Popular with a broad cross-section from mothers with children to students, football fans and people drawn to the beer garden at the front, it is a large bar full of intimate spaces.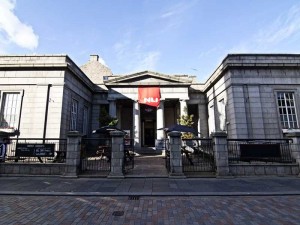 Whether you settle in the geography, maths, science or english sections (identified by the framed photos, maps and illustrations on the walls), you'll leave having learned how to have a good time in bright-eyed company.
'you'll leave having learned
how to have a good time'
Our big screens are well regarded as the best in the city centre for when those massive sporting occasions just need the big day atmosphere. If you have experienced a Champions League Final, or a Scotland match, you know that if you cannot be at the stadium itself, joining us at The Old School House is the closest you will get. We also have a free quiz on a Tuesday.