The bar is situated only a couple of hundred yards from the Arbroath Abbey which is best known for the signing of the Declaration of Arbroath, possibly the most famous document in Scottish history.
The Declaration was written in 1320, in the form of a letter, and was a declaration of Scotland's right to independence. Arbroath was also famous for hosting pageants which, were held within the grounds of the Abbey, and in 2004 it was decided to rename the pub The Pageant Bar.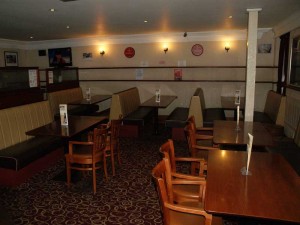 At the top of the building there is a hay loft, where we believe horse food was store, and beneath the bar there is a slow flow of running water in the cellar, which leads to a deep well, as well as a tunnel which is reputed to lead to the Abbey grounds but unfortunately this has been bricked up and so there is no confirmation of this.
'there is a "presence" in the building which cannot be explained'
Although many pubs claim to have a ghost we believe the story of our ghost is true and indeed our bar staff regularly speak to it. We have researched this and have been told there is a "presence" in the building which cannot be explained.
We have live entertainment weekly and are founder members of the Bell Rock Blues Festival which is an annual event every August and brings many live bands from around the country and also brings thousands of visitors to the town. We are proud to be recipients of two Famous Grouse awards (top 100 pubs in Britain) and two Best Bar None Awards.