The Goth, as it is affectionately known in Prestonpans, was established in 1908 to encourage less heavy drinking amongst the local miners and brickworkers.
It was a product of the Temperance Movement at the turn of the twentieth century that advanced their cause by building fine establishments that deliberately provided bonuses to the landlord for selling food and non-alcoholic drinks.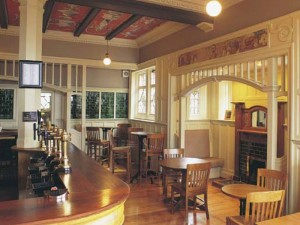 However, the founders did more than simply seek to reduce heavy drinking, they also believed in diversionary recreation and to this end a proportion of the profits were reinvested into the local community. The association with Gothenburg developed as that City had become a European role-model for the control of the liquor trade and encouraging profits to be used for recreational facilities. Today that link continues and the Mayor of Gothenberg has paid several visits to the pub.
'a product of the Temperance Movement at the turn of the twentieth century '
Following the closure of the local mines and the brickworks, the pub fell on hard times but in 2001 it was acquired by The Baron Courts of Prestoungrange and Dolphinstoun and restored as a bistro, a reborn Fowler's Ales microbrewery and a community hub. The pub has superb views across the Forth from the upstairs meetings areas and is an integral part of one of Scotland's largest community arts festivals – the 3 Harbours Arts Festival – as well as being the headquarters for the Battle of Prestonpans Trust. The vitally important architecture, including the art nouveau tiles, the copper-work and the Edwardian woodwork of the main bar have all been refurbished and today the micro-brewery produces Gothenburg Porter and 80/-. We have won countless awards for our great food and atmosphere and look forward to welcoming you to our unique pub to sample our real ale and local arts and culture.