If proof were needed of a pub steeped in history, look no further than The World's End on the Royal Mile.
This pub takes its name from the City Walls which once surrounded Edinburgh. Back in the sixteenth century, following the Battle of Flodden and Scotland's defeat by the English, Edinburgh had become a walled city for protection.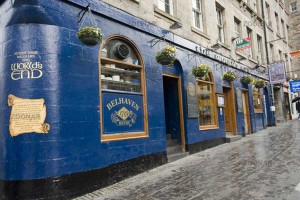 The gates to the City, which formed part of the wall, were situated outside the pub and the brass cobbles in the road outside represent their exact location. As far as the people of Edinburgh were concerned, the world outside these gates was no longer theirs and hence the name, The World's End.
'The gates to the City of Edinburgh were situated outside the pub'
The pub is billed as one of the 'old style', pulling in tourists who walk the cobbled streets and stop to quench their thirst. Above the bar, scores of foreign banknotes give a nod and a wink to the broad, international clientele who have drunk here. Complementing the 'old-fashioned feel', television is minimal, allowing the pub's capacity of around 140 to drink in peace! Today, those venturing inside the tavern will find that its unique hospitality makes the world of difference.