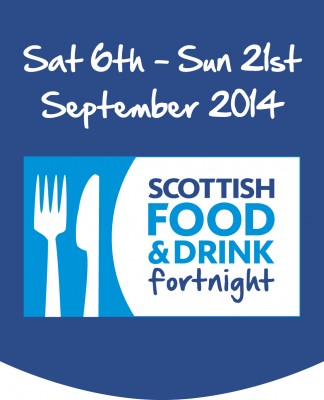 Scottish Food & Drink Fortnight (6-21 September) highlights the wealth of produce on offer to consumers. It also celebrates pubs and bars who source and champion quality Scottish produce, supporting the people who produce our food and drink. We're supporting the week by collating details of pubs and bars who will be doing this during the fortnight itself. We will be showcasing this through a range of joint promotional activity, including mention of your celebrations on the Fortnight's website and here on our own website.
The aim of the Fortnight is to encourage people to discover, buy, eat and enjoy the food and drink produced on their doorstep, building Scotland's reputation for excellent quality produce. Sales of Scottish brands have risen 22% since 2007 and through the Fortnight, Scotland Food & Drink aim to support continual growth. In addition, recent research shows that named ingredients of local provenance command a premium.
There are countless ways to celebrate the Fortnight. Here are some suggestions:
Highlight locally sourced produce on your menu, naming the producers
Offer a themed menu for the fortnight using only Scottish produce, or serve a Scottish dish of the day indicating where people can buy the ingredients
Create an exclusive cook school evening using a local chef. Charge for admission but teach guests how to make delicious meals using Scottish ingredients, that they can then take home
Take part in a local food festival – in 2012 there were more than ten festivals held during the fortnight – or consider starting your own if there isn't one
Organise your own festival celebrating Scottish produce – from beer, whisky and gin to fresh food produce
Run a recipe competition for customers to create a dish using Scottish ingredients. Produce the dish in the restaurant for one night only
Showcase a different Scottish producer each day on your menus, with dishes focussed on that ingredient, e.g. tomatoes, beef, venison, pheasant, beer or chocolate; and or special cocktail menus or champion real ales.
Offer a discounted Scottish set menu for lunch and/or dinner
Create a tasting menu paired with different Scottish beers, gin or whisky
Use the Eat Scottish pledge at facebook.com/eatscottish as a sales tool, the #eatScottish hashtag in your Fortnight tweeting, and follow @ScotFoodFort to keep up with all the Fortnight news.
Make sure you tell us about any events you run, so we can list them on the website for free, and help you promote them. And please do post details of them on our own Facebook page and copy @scotlandspubs in to your Tweets, so we can promote your celebrations too.
However you get involved this Fortnight, we'd love to hear about it!