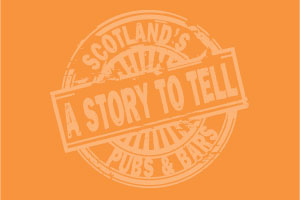 Fraserburgh bar Cheers, which features in Scotland's Pubs and Bars: A Story to Tell, took the Best Use of Innovation gong at the recent Best Bar None Awards.
Mandy Haeburn-Little of the Scottish Business Resilience Centre, which runs the Best Bar None scheme, said this year's awards "was one of the most keenly contested national award ceremonies in years".
The Best Bar None Awards Scheme, which is sponsored by Diageo, Molson Coors and HEINEKEN is an integral part of the Safer Areas Initiatives within Scotland.
Cheers is located in the centre of Fraserburgh in the furthest North East corner of Aberdeenshire, home to one of the finest fishing fleets around. In 2013, they picked up a multitude of awards including 'Best Independent Bar in Scotland', the SKY Sports Preview Live magazine 'Ultimate Venue' Award; Innserve Ltd's Beer Cellar Award for Scotland; and Tennent's Quality Award.