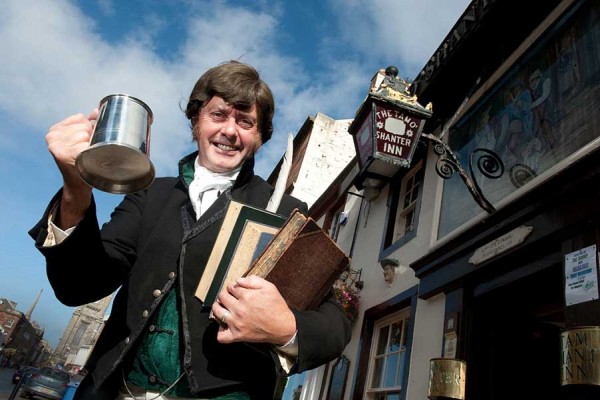 The hunt is on to find the stories behind Scotland's pubs and bars in a major new tourism campaign.
The Scottish Licensed Trade Association has teamed up with VisitScotland and drinks companies Diageo and Tennent's to launch Scotland's Pubs and Bars – A Story to Tell, a campaign that will see around 100 of the country's most fascinating pubs secure a spot on a dedicated website, an accompanying app, as well as daily updates on social media.
The £120,000 campaign has been match-funded with £60,000 from the VisitScotland Growth Fund, with the aim of encouraging visitors to Scotland to discover the stories behind public houses in all corners of the country.
These tales can be anything from mythical hauntings in the beer cellar to famous historical patrons that used to sit at the bar. A pub may boast a famous literary connection, such as a pub well known as a famous detective's favourite haunt, or a pub that may have enjoyed a starring role on the silver screen. Or it may be a bar which helped launch the career of a band and unearthed a rock n' roll phenomenon. Or perhaps the distinction is geographic, such as the most remote pub in mainland Britain.
Bars, and customers, will be able to make their nominations online, with the aim of compiling a list of around 100 Scottish pubs with the most fascinating stories to tell. Furthermore, each of these pubs will put forward a member of staff as their resident 'storyteller', who can regale customers with tales of the establishment's background.
Mike Cantlay, Chairman of VisitScotland, said: "For many, a visit to a Scottish pub is an integral part of the holiday experience. But this campaign isn't about who pulls the
best pints or serves the finest ales, it's about telling stories and enriching the overall visitor experience.
"This is a hugely exciting project and we are delighted to be working with the SLTA, Diageo and Tennent's to uncover those Scottish pubs and bars with the most fascinating stories. Scots are renowned throughout the world for their warm welcome and we hope that, during Homecoming 2014, visitors will gather for a tipple of their choice and enjoy Scotland's finest tales."
Paul Waterson, Chief Executive of the SLTA, said: "One of the great assets of The Scottish Licensed Trade is the range of premises we have. We have everything from style bars to traditional pubs, from music venues and community hubs to late-night venues. Our pubs and bars, of which we are very proud, offer great food, wines, spirits and beers, places where a cappuccino and a croissant are just as likely to be offered as the traditional pie and a pint. But there's more – the vast majority of Scottish pubs and bars have an individuality and character all of their own and many have a unique, interesting, entertaining story to tell. The SLTA, together with Diageo, Tennent's and VisitScotland, are going to make use of these great stories, to publicise the fact that our Licensed Trade premises continue to be the heart and soul of the Scottish social scene and a real selling point for tourism."
Pubs and bars can nominate themselves by visiting http://www.theslta.co.uk/Scotlands-Pubs-and-Bars
Consumers can also email their nominations to entry@scotslandspubsandbars.co.uk or by tweeting @ScotlandsPubs. The nominated pub will then be contacted and encouraged to enter.
For more information contact:
Fiona Drane Telephone: 01750 505053
Email: Fiona.drane@brightlightmarketing.co.uk
To enter:  Go to http://www.theslta.co.uk/Scotlands-Pubs-and-Bars
You can nominate a pub via entry@scotslandspubsandbars.co.uk or by tweeting @ScotlandsPubs