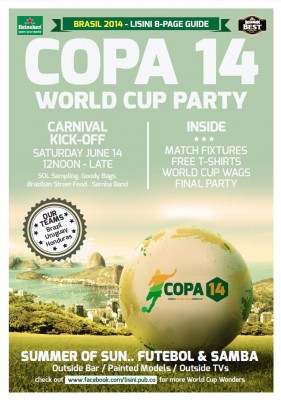 Scotland's national football team may not have made it into the Brazilian World Cup 2014, but Scotland's pubs and bars will still be celebrating the world's most prestigious tournament in style.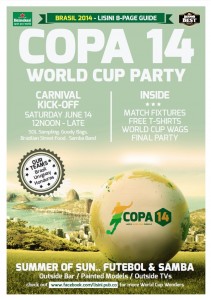 Angels Hotel in Lanarkshire, affectionately called "The Love Pub, was picked to be part of our Story to Tell initiative because it is famous not just as a meeting place but for staff falling in love and subsequently marrying! It seems apt that one of these stories relates to the World Cup – the current bar manager, Claire Farr, met her husband when he was the manager of the bar at a previous World Cup. In their case, love really does equal football.
Naturally the bar will be hosting an exciting celebration for the duration of the World Cup, launching with a Carnival Kick Off on Saturday 12 June from 12 noon to late including:
Brazilian style World Cup Dancers
Sampling on the hour every hour.
Body painted model sampling
The Rumba Bumba Steel Band
BBQ
Street food
Bonus goodie bags
And much more
The celebrations at Angels, and its sister venue The Parkville, will continue throughout the tournament and into the Commonwealth Games. Highlights include:
Nacho
Special tapas meal deals including The Tapas 6 – Any  3 Tapas from their Tapptizer menu
World Cup Cocktails
Prizes including t-shirts and free Brazilian waxing
A La Botella menu
Round the World cocktails – The Coctel 8
The Brazilian – the ultimate party night for women only on 5 July including live music, Butlers in the Buff, a 2 course meal for £20 and more prizes.
The Final Party on Sunday 13 July – a ticketed party including a 5 course meal and sombreros.
And so they have someone to cheer on, the pub has selected three teams of their own to support through the tournament: Brazil, Uruguay and Honduras.
Speaking about the celebration, Siobhan Edwards, Marketing Director for the hotels said:
"Our Angels Hotel bar is affectionately known as the love pub, not least for the number of people who have met and subsequently married in our pub, but also because of the passion all our staff have for what we do. While Scotland may not be in the World Cup, we know that much of our football loving population will still want to celebrate the tournament and what better place to truly get the adrenalin pumping than surrounded by other football fans in your local pub or bar. We have created a very exciting celebration at all our bars so that our locals and visitors have a very special story to tell about World Cup 2014."
For more information or to book your place at one of their ticketed events visit lisini.co.uk