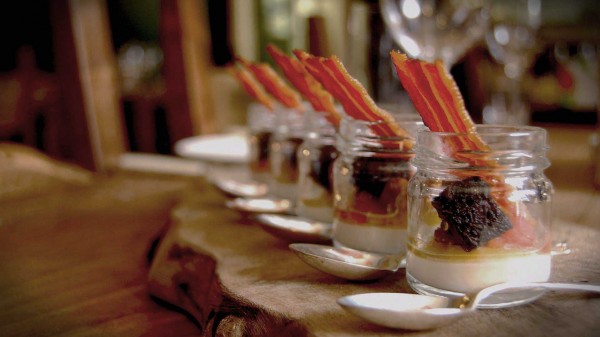 To celebrate this year's Scottish Food & Drink Fortnight (6 – 21 September) pubs and bars across Scotland will be telling the story of the best of Scotland's natural larder through menus, tastings and festivals.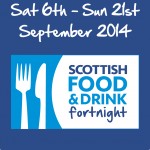 The new not-for-profit Scotland's Pubs & Bars: A Story to Tell initiative showcases a number of specially selected public houses which serve some of the top ingredients produced in Scotland through delicious dishes and specially selected drinks. Whether it's about their locally sourced food, a whisky/gin tasting or a beer pairing they all have some great stories to tell this Scottish Food & Drink Fortnight.
For the latest information about participating pubs and bars keep visiting this page or like us on Facebook at: www.facebook.com/scotlandspubsandbars. Licensed premises specialising in serving the best of Scotland's food and drink year-round can also be found using the Scotland's Pubs & Bars: A Story to Tell app, which is free to download from iTunes and Google Play.
Pubs and bars where you can celebrate the Scottish Food & Drink Fortnight include: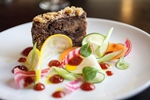 Scottish Gastropub of the Year Winner 2012, 2013 and 2014, situated in an agricultural heartland on one side of Scotland's premier fishing community, The Cock & Bull represents all the very best from their unique location. They are passionate about sustainability: They use Marine Stewardship Council approved fresh white fish and shellfish landed in Peterhead, Beef and Pork from the stock farms of Buchan and Kincardineshire, Game from the Highlands, seasonal vegetables harvested when ready and even the malted barley which goes into the Whiskies behind their bar.
What to expect during Scottish Food & Drink Fortnight: Their menu will offer the best local produce from the pub's award-winning Chefs, with an abundance of home-grown produce to select from.
The Ancrum Cross Keys (see also featured image at the top of the page)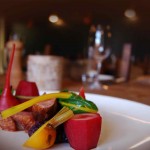 The Ancrum Cross Keys believes food should "feed the body, inspire the mind and lift the soul." And this is reflected in their menu. They use locally sourced, picked and foraged ingredients from around the Scottish Borders, and create dishes that you won't find anywhere else. They constantly search for new flavours and aim to put the very best that nature has to offer on a plate in a way that most naturally suits it.
What to expect during Scottish Food & Drink Fortnight: A new dinner menu with locally sourced ingredients in season during the fortnight.
The George Hotel at the Best of the West Festival, Inveraray Castle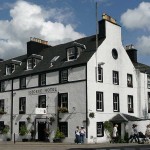 The hotel's menu focuses on using the very best of local quality eg well hung West Highland beef and lamb; and seafood and fish bought from the local fishing port of Tarbert and the famous Loch Fyne salmon. The Hotel sits just outside the walls of Inveraray Castle, so also a great place to wind down after the festival.
What to expect during Scottish Food & Drink Fortnight: Aptly, given the George Hotel's historical ties to the Duke of Argyll, some of the catering staff will be found in the grounds of the Duke's nearby Inveraray Castle for the Best of the West Festival on 13 and 14 September. www.bowfest.co.uk
The George Bar, Hamilton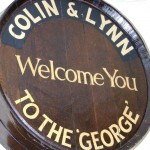 A frequent winner of CAMRA awards, the George is renowned for its friendly atmosphere, warm welcome, real ale and hospitality. They have a particularly excellent reputation for real ale and our unique themed beer festivals.
What to expect during Scottish Food & Drink Fortnight: From 12 to 14 September, to celebrate Scottish Food Fortnight and the independence referendum, the George Bar in Hamilton will be hosting a Scottish Beer Festival with a range of specially selected ales including "Aye", "Naw" and "Maybe" from Strathaven Brewery; Deuchars Caledonian and Fraoch from the Williams Brewery. Their annual beer festival will include lots of fun activities.
The County Hotel, Selkirk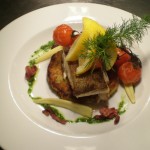 Enjoy a freshly cooked lunch or supper in the County Hotel's relaxing Lounge or stylish Brasserie. Always on the menu are traditional favourites Eyemouth Fish & Chips, home-made County Lasagne, Steak Burgers and Scottish breaded Scampi. You can also dine in their Italian inspired ristorante, La Contea Pizzeria, serving freshly stone-baked pizzas, pastas and salads.
What to expect during Scottish Food & Drink Fortnight: delicious food with focus on local Scottish ingredients and suppliers.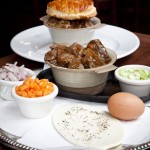 Maggie Mays, Glasgow
They say music is the food of love, well Maggie Mays offers the best of both worlds. This well known music venue offers a wide variety of dishes with a twist of Scottish influence from 11am to 2am each day. Every dish is prepared with local produce and homemade by the team of chefs in Maggie's Kitchen.
What to expect during Scottish Food & Drink Fortnight: there will be nightly specials showcasing some of the finest Scottish cuisine.
In addition to the pubs themselves, Scotland's Pubs & Bars: A Story to Tell is celebrating the week by encouraging people to share their images and stories of their best food and drink experiences in Scotland's pubs and bars via: