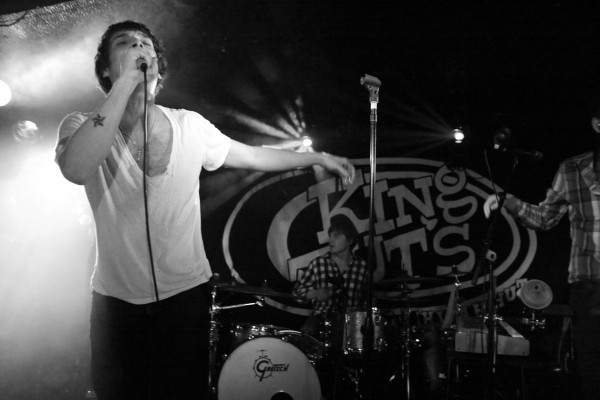 As a list of famous faces reveal their favourite public houses in Scotland, we are calling on your help to uncover Scotland's most star-studded public house by sharing your stories and pictures of stars that you've spotted in pubs and bars around the country.
Our call comes following the publication of stories on our and app (free to download from iTunes and Google Play) which reveal that a large number of pubs and bars have welcomed famous visitors. Indeed in some of Scotland's licensed premises you may even bump into some A-Listers such as Gerard Butler, James McAvoy, David Tennant, Paolo Nutini, David Beckham or the cast from the hotly anticipated Outlander TV series.
Issuing the call Paul Waterson, Chief Executive of the Scottish Licensed Trade Association, the organisation delivering the initiative in partnership with VisitScotland, Diageo and Tennent Caledonian Breweries, said:
"We would like to discover which of our public houses welcomes the most famous visitors and would like to enlist the help of regular visitors and holiday makers in doing this. People can share their images and stories via our social media networks.
"When visiting one of the many pubs and bars involved with Scotland's Pubs & Bars: A Story to Tell, you never know who you might bump into – from musicians and actors to sportsmen and politicians. Many of our country's pubs and bars treat the stars just like any other customer, laying down the red carpet for all who cross their doors.
"Often we hear stories of famous visitors telling others about the refreshing experience they have in one of the country's great licensed establishments – particularly praising the authentic Scottish hospitality and down to earth welcome they receive."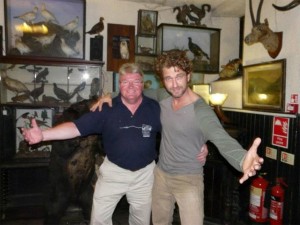 As well as being a famous actor, Gerard Butler is renowned for being a friendly and approachable man, as many photos taken with him in pubs and bars where he has lunched with friends and family prove. Speaking of one of these experiences in interviews following the Hollywood star's visit to the Drovers' Inn near Loch Lomond, landlord Earnest Strang said: "The place was rocking but Gerry just sat back and enjoyed the company. He loved it and even joined in."
Here's what some other famous names have to say about their favourite pubs: and bars
Paolo Nutini: Earlier this year, in the lead up to a gig for the Sunday Mail Centenary Fund at Scotland's ultimate music pub, King Tut's Wah Wah Hut, singer Paolo Nutini spoke of his excitement at playing at the venue which is most famous for discovering Oasis: "Over the years, we made a habit of going into Tut's and doing our shows, showcasing new music in Scotland there…It's a classic venue – it's the classic venue…Everyone goes into the King Tut's zone and expects a Tut's performance and a Tut's atmosphere."
Billy Boyd: As well as working on some new film projects, Lord of the Rings actor Billy Boyd now fronts the internationally acclaimed indie-rock band Beecake, whose latest album Blue Sky Paradise is out now. He said: "Touring with my band Beecake, we have performed in some of the top music pubs and bars across Scotland – they play an important role in discovering the latest music talent. One of our favourites is King Tut's Wah Wah Hut – even when there's not music on, it still has a great atmosphere and cracking food. An absolute must for any music fans."
GUN's Dante Gizzi: Front man of one of Scotland's most famous rock bands, Dante would also recommend King Tut's Wah Wah Hut. The band play three nights at Tut's for the Sunday Mail's Centenary Fund on November 9, 10 and 11: "It's a place where I've hung out over so many years and has given me so many cherished memories. It almost feels like a home from home and a lot of that is down to the staff who are so welcoming. Tut's will always have a special place in my heart and I gladly recommend it to any visitors to Scotland."
Travis: Also in Glasgow, award-winning Glasgow band Travis honed their skills in The Horse Shoe bar in the mid 90s. The band went on to achieve global success, but never forgot the role the pub played in their careers. They presented the bar with a Gold disc for their album The Man Who; their 1999 Q Award for Best Song (Why Does It Always Rain On Me); and their 2000 Brit Award for Best Band – all of which are prominently placed behind the bar for visitors to see. In an interview with the NME, the band's lead singer Fran Healy, said: "The Horseshoe is the only bar in Glasgow where everyone comes, from the rich to the poor."
Barbara Dickson: Singer Barbara Dickson talked of meeting the famous Gerry Rafferty in the Scotia Bar in Glasgow and singer-songwriter Rab Noakes in Sandy Bells, which both feature on the Story to Tell app. Some of her fondest memories are of her time in Edinburgh's folk clubs and bars: "I remember being so excited by the exposure to lovely music on a regular basis. We lived for the music and would sing at the drop of a hat anywhere where we gathered. We were lucky to gather in these wonderful places."
Proclaimers' Charlie Reid: A regular visitor to the Radical Road Pub in Edinburgh, Charlie said: "Pubs are a vital part of civilised life. They are a great meeting place for locals and visitors alike."
Actor Colin McCready: Elsewhere the Bull Inn in Paisley (an art nouveau pub designed by a student of Charles Rennie Mackintosh) has also welcomed many a famous face from David Tennant to Paolo Nutini. After filming Taggart there, actor Colin McCready said: "The Bull Inn is a great old pub with plenty of character."
Ross McNae, Twin Atlantic – Ross, who plays bass guitar with one of the UK's current leading rock bands Twin Atlantic said: "I would say The Ubiquitous Chip for a traditional Scottish bar, or Drygate Brewery for the future of Scottish brewing! Ubiquitous Chip is on one of the most famous cobbled streets in Glasgow and always has an older gent with a dog in the corner. Drygate Brewery is co-owned by Williams Brothers and Tennent's. Can you get more Scottish than that? Craft beer on a big scale."
Ally McErlaine, Texas/Red Sky July – a founding member of Texas, one of the most successful Scottish bands of all time fronted by Sharleen Spiteri, and now alternative country band Red Sky July, Ally said: "I would recommend Rab Ha's in the Merchant City It's a great place to go for food and for my friends who don't know Glasgow very well it has an amazing whisky selection. It's also one of the cooler places to watch football."
Greg Kane, Hue & Cry: One half of the 80s chart toppers Hue and Cry, Greg said: "My favourite local bar in Glasgow is The Scaramouche – Elderslie Street, Charing Cross. Friendly staff, great food and diverse range of punters make for an entertaining, often long lasting night out! Recommended."
People can share their images and stories of stars in bars via:
• Facebook: www.facebook.com/scotlandspubsandbars; or
• Twitter: copying in @scotlandspubs and using #starsinbarsscotland.